SEVEN SEEDS COFFEE SUBSCRIPTIONS
Roasted to order and delivered to your door: fresh whole beans or ground to suit your brew style.
Choose a regular delivery of one of our Espresso Blends, F.Bomb or Decaf. Or try something new every fortnight with a rotating selection of Single Origin coffees, your choice of filter or espresso roast.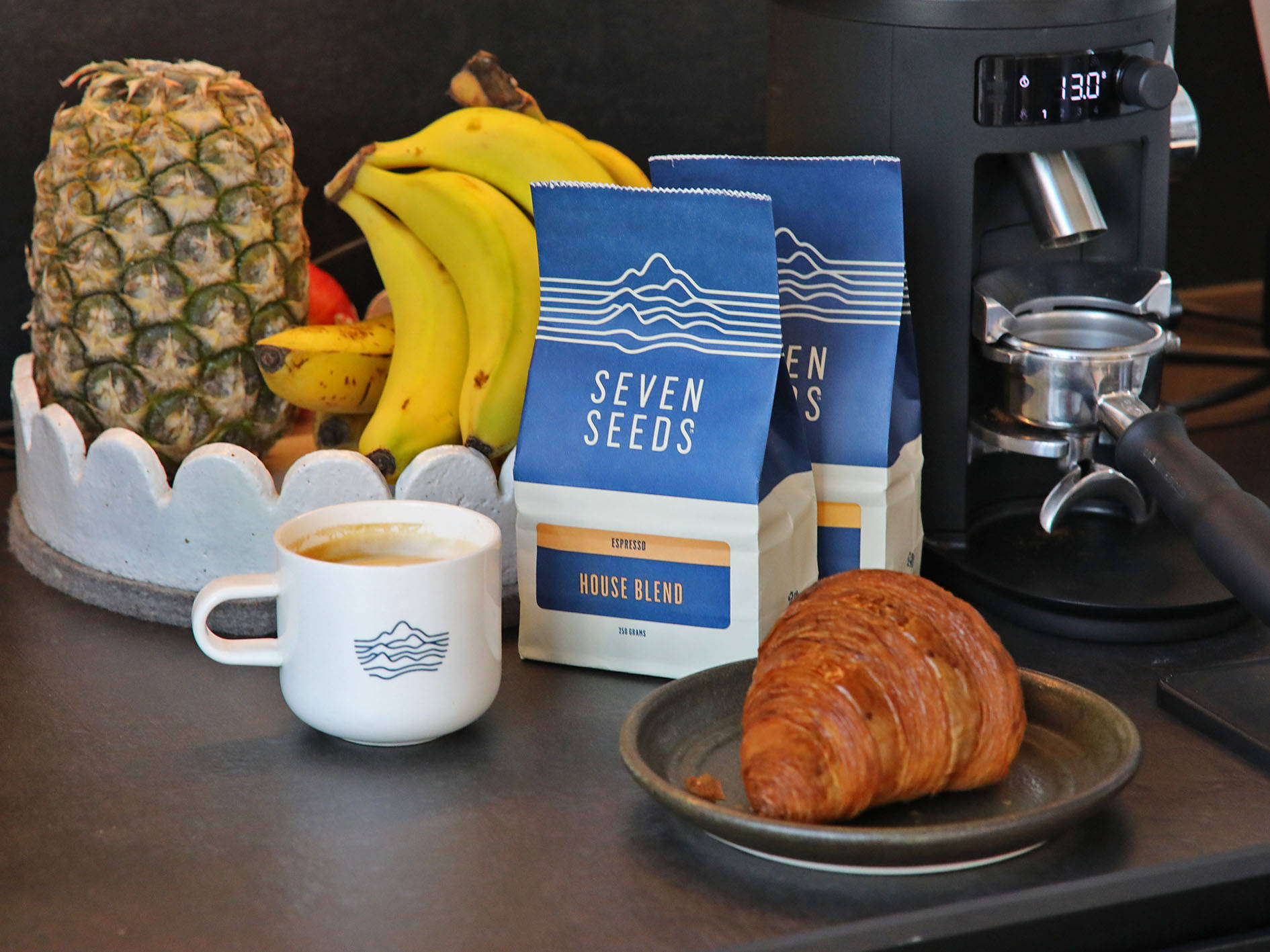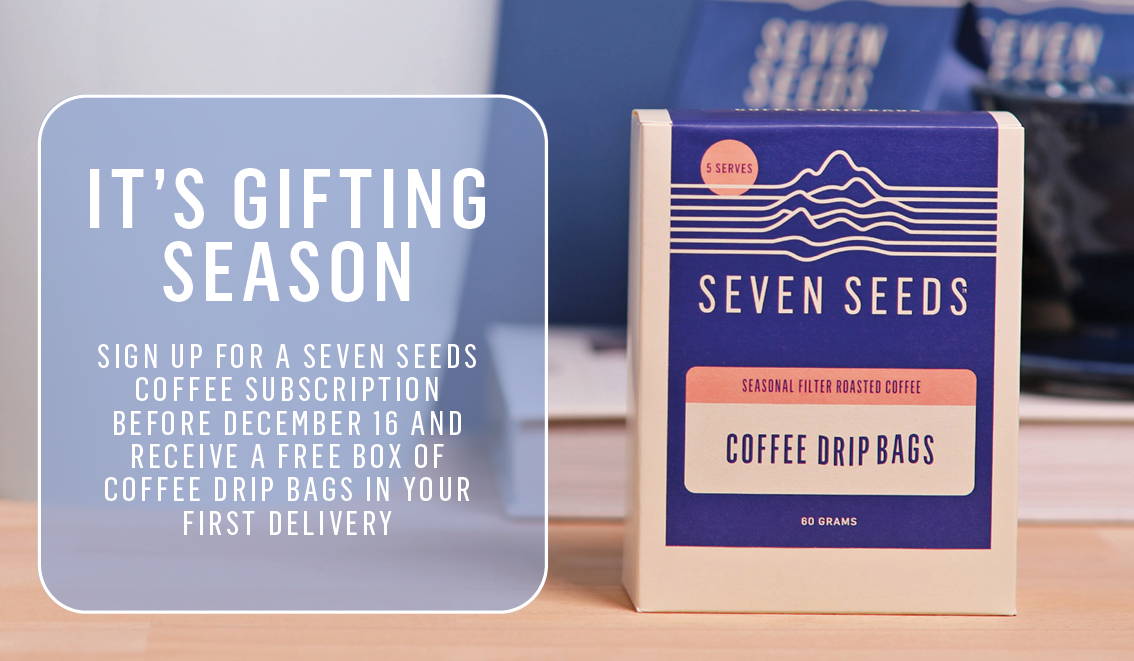 SUBSCRIPTIONS OVER THE HOLIDAYS
Seven Seeds will take a short break between Christmas and New Year, meaning a one-week pause in subscription shipments.
The last subscription run for the year will be for orders billed on Sunday, December 17. New subscriptions commenced after this date will be shipped from Wednesday, January 3.
ONGOING COFFEE SUBSCRIPTIONS
Set and forget. Automatic recurring orders will keep you well stocked with fresh coffee deliveries for as long as you need.
Billed and delivered fortnightly (or monthly if you prefer!)

Easy to change between products

Continues until cancelled - which you can do at any time after your first three deliveries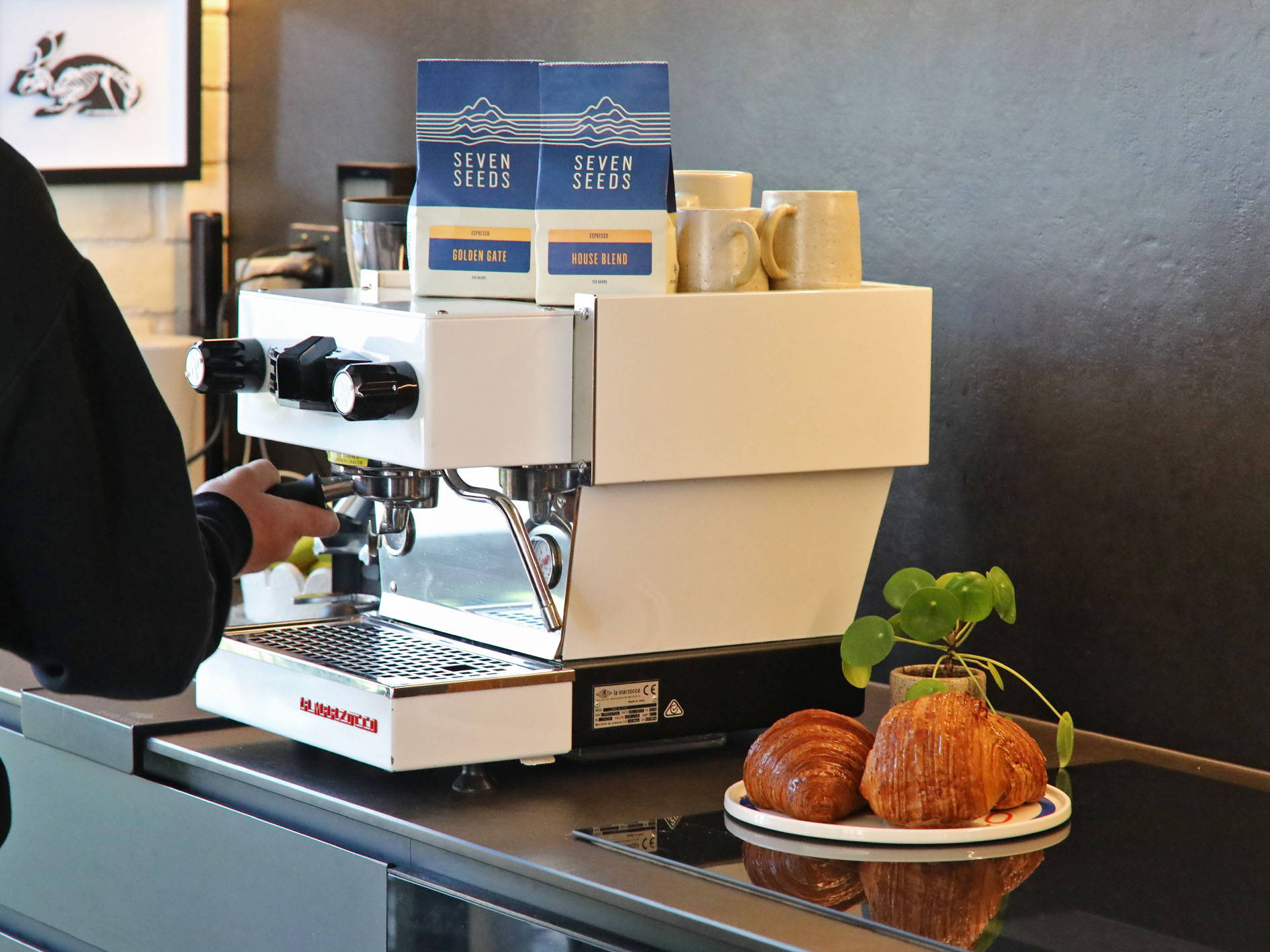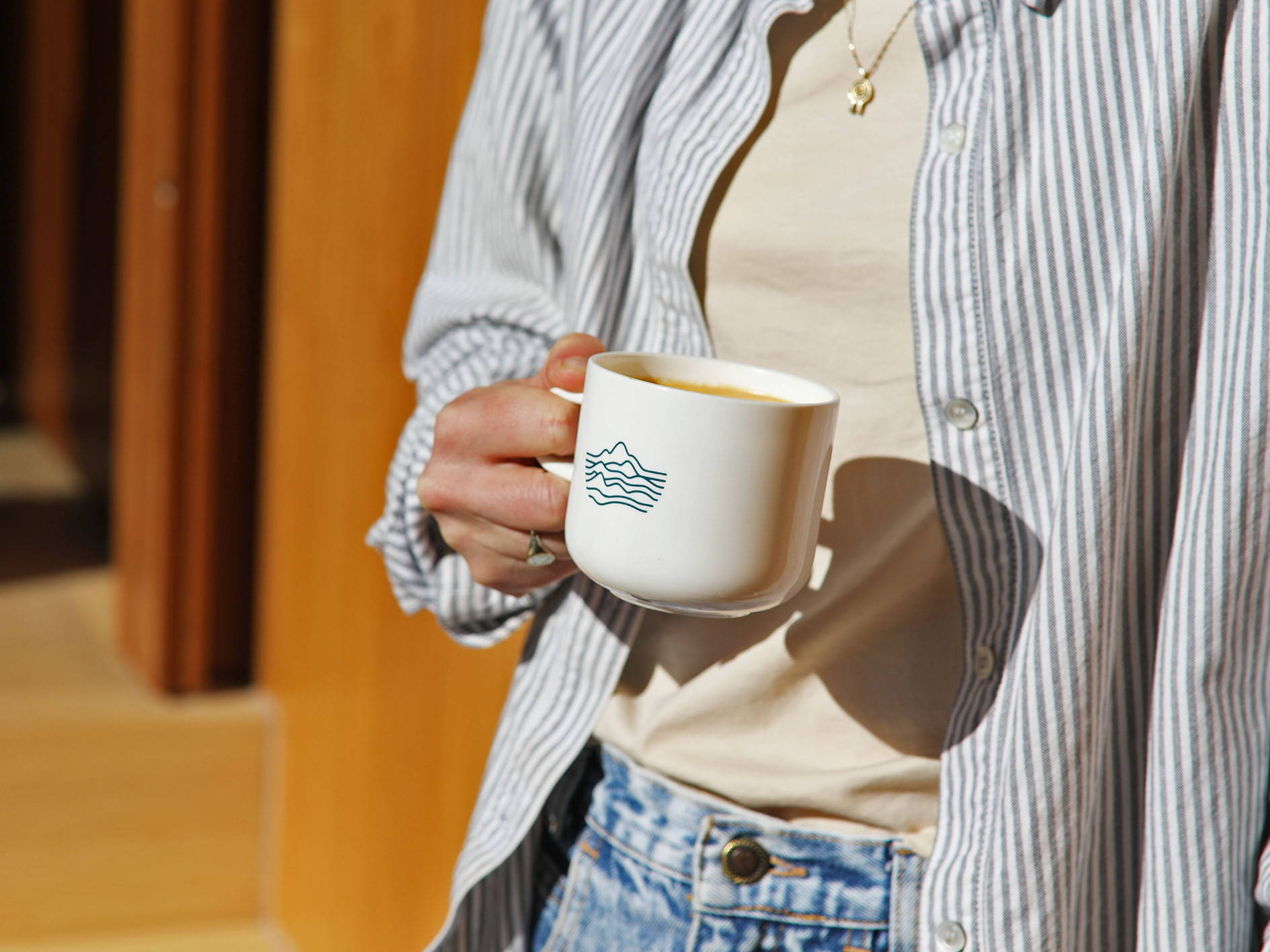 PREPAID COFFEE SUBSCRIPTIONS
The perfect gift for a coffee lover; order once, and they're all set for the next three months.
Pay for six fortnightly deliveries upfront.

Choose a coffee you know they'll love; prepaid products can not be swapped mid-subscription.

Cancels automatically after the sixth delivery. You (or the lucky recipient) can easily renew with a new Ongoing or Prepaid subscription
Answering Your Questions About Coffee Subscriptions
HOW MUCH COFFEE DO I NEED? CAN I CHANGE MY SUBSCRIPTION LATER?
1x 250g bag is perfect for one cup of coffee daily for two weeks.
2x 250g bags suits two people sharing a coffee daily, or one person who needs more than one to get through the day.
1x 1kg is great for a household, or a small office or studio, with four to five people drinking a cup daily.
ONGOING: You can change the quantity of your subscription coffee at any time through the Manage My Subscription link in your account - or ask us and we can take care of this for you.
PREPAID: We are unfortunately unable to change the type, quantity or volume of coffee mid-way through prepaid subscriptions.
GETTING STARTED & AUTOMATIC BILLING
Sign up before midday Sunday to slot into our next subscription roast. We roast subscription coffee on Mondays and ship it out on Tuesdays.
When starting a new subscription, please note that the 'Quantity' field is the number of bags of coffee you will receive for every delivery. It is not the total number of deliveries. Ongoing Subscriptions are active until cancelled and do not allow us to predetermine how many shipments you are signed up for. You can cancel after the first three.
New or reactivated subscriptions ordered mid-week will be filled if we have the coffee available. For our Espresso Blends, this is almost always the case! In rare circumstances, we may need to wait to process your order until Monday with the next batch of subscribers.
ONGOING:  Recharge Subscriptions will automatically charge your provided payment method on Sundays between 1-3 p.m. (AEST). If your card is declined, Recharge will try again once a day for three days before cancelling your subscription. Cancelled subscriptions can be easily reactivated through your account's Manage My Subscriptions link.
PREPAID: Your payment method will be charged once at the inital time of purchase. If you wish to renew your subscription after six deliveries, you can log in to your account and purchase a new Ongoing or Prepaid product.
SHIPPING & PICK-UP OPTIONS
Your Coffee Subscription includes Free Standard Shipping with Australia Post. Current delivery times can be found on the Australia Post website. Once AusPost has collected your order from us and the address information has been supplied correctly, delivery delays are unfortunately outside our control.
Express Post can be organised for an additional charge based on your location and the size of your order. Reach out for a quote at subscriptions@sevenseeds.com.au
Melbourne Metro customers can request delivery via Couriers Please for no additional charge. Please email us at the address above to request this.
Free Pick up from our Fairfield Roastery can also be organised. Please note this is available from Fairfield HQ only; we can not arrange subscription pick-ups from our cafes. Please email us to find out more.
RESCHEDULING, SKIPPING, PAUSING OR CANCELLING
Ongoing Subscriptions are recurring until cancelled. If you need to take a break or if you have too much coffee, there are some options;
Rescheduling your next order will, in turn, reschedule all of your upcoming dates.

EG: If you are on a fortnightly schedule and reschedule your October 1 order to October 8, your next orders will continue fortnightly from then (October 22, November 5, and so on). Rescheduling is recommended when you must put deliveries on hold, but know you'll be back in a few weeks.
Skipping orders will allow you to miss an upcoming order. At the same time, it keeps the rest of your existing schedule on track. It won't bring your other dates forward.
EG: If you are on a fortnightly schedule and skip your October 1 order, the subscription will automatically resume from October 15. Skipping is handy for a one-off change to your schedule, for example, if you've ended up with too much coffee one week but know your current deliveries usually work for you.
Pausing your subscription can be done in periods of 1/2/3 months. This option is offered when you click Cancel - or ask us, and we can arrange this for you.
Cancellations are available after you've received three deliveries. You can do this through your account or ask us for assistance. It is easy to reactivate your subscription if you wish to come back at a later time.
OUR 100% RECYCLABLE COFFEE BAGS
Seven Seeds paper coffee bags are 100% recyclable. These bags can go straight into your recycling bin at home, making it that much easier to play a part in environmental consciousness.
The move to paper bags is the next step forward in waste reduction. Find out more about our recyclable bags, and coffee freshness, on the Seven Seeds Coffee Blog.
Ongoing Coffee Subscriptions
Prepaid Coffee Subscriptions